Discovery Island was opened to the public in 1974, but closed for unknown reasons in 1999. The theme park used to be filled with all kinds of wildlife. In 2009 explorer Shane Perez swam to the abandoned island with a group of friends and found many things: deadly reptiles in jars that could crawl into your brain, old employee photos, and that the park lights still turn on at night.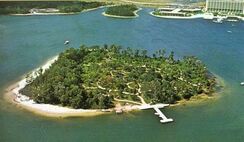 Ad blocker interference detected!
Wikia is a free-to-use site that makes money from advertising. We have a modified experience for viewers using ad blockers

Wikia is not accessible if you've made further modifications. Remove the custom ad blocker rule(s) and the page will load as expected.